Z-VISE Overview
The Z-VISE is a MULTI PURPOSE CLAMPING SYSTEM.

It is portable, versatile tool. The Z-VISE can be quickly set up anywhere from building sites, to boats, to workshops. The Z-VISE now comes in a sturdy case with allocated slots for all the parts.
Nothing matches the Z-VISE for secure convenient holding of work in all shapes and sizes. A Z-VISE can replace bar and C-clamps, as well as cumbersome bench vises.
Plane or sand surfaces with out obstruction, using our revolutionary low jaw grip, or use the turntable accessory to hold pieces at literally any angle for maximum convenience and best results. Use the end stop to clamp work of any size, regardless of length.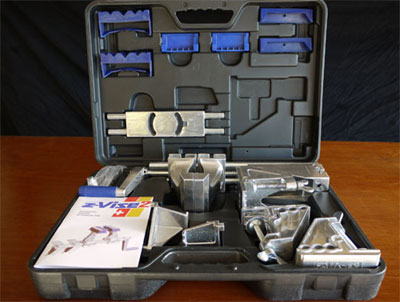 The Z-VISE Vise includes quick release jaws, two bench clamps, tow turning centers, three sets of soft jaws, one set of hard jaws, a drill all in a sturdy hard carry case with inserts for all accessories.
The Z-VISE can be attached to any workspace and has a unique four point grip to secure both pies of timber at the same time. Ideal for setting mitre or butt joints.
The Z-VISE vice can be flipped over, where another set shallow jaws grip firmly and allow comple access for planning, sanding, routing and joinery work.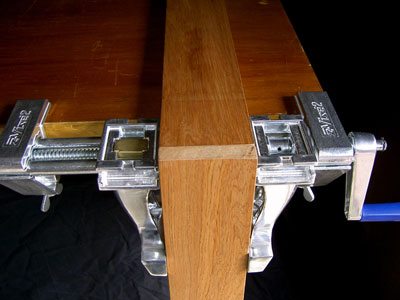 The woodworking jaws help when holding timber on its edge. The jaws are also ideal for use of softer timbers and delicate materials.
The tube jaws allow you to hold round or awkward shaped objects, such as dowel, fishing rods, golf clubs, delicate electronics and even bikes. Other jaws included with the Z-VISE are flat plastic and aluminium jaws.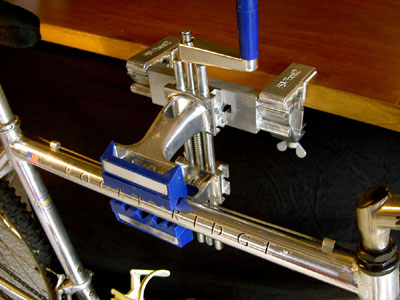 Electric drills can be held firmly in the Z-VISE drill holder attachment, vertically as a guide or horizontally with sanding or grinding disks. The Z-VISE can also be set up as a doweling jig.


With the turntable attachment , the Z-VISE can be set up at any angle for working with awkward objects, carving or aligning compound mitre cuts. The turntable also allows the Z-VISE to hold timber away from the bench for jig sawing or routing.
The vise can be extended along the bench by using the End Stock. This allows you to hold material up to the length of the bench. Ideal for routing, planning, sanding or joinery work.
By using the two centres and the end stock the vice can hold difficult shapes, such as chair legs, gun stocks and turned wood. By using the end stock and a piece of 4x2 or pipe the Z-VISE can be turned into a sash cramp of any length.